Regarding Harvard Business Review, 81% of customers across industries attempt to take care of matters themselves before reaching out to a live representative. Ultimately, an investment into Self-Service is therefore an investment in customer experience. The resources spent strategizing and executing Digital Self-Service will be beneficial for all stakeholders.
Well-implemented Digital Self-service can provide long-term ROI such as:
Decrease in number of support calls: Customers can easily find the answers they are looking for online, thus lowering the number of calls coming in.
Increase in traffic: Having Self-Service establishes brand credibility and trust, so customers will view the portal as a useful tool and visit more frequently.
Decrease in response time: Since customers can quickly search for the information they need; customer service reps can use their time to handle more complicated questions.
Increase in total support volume handled: Self-Service enables more customers to be served in a shorter time span.
Decrease in total support costs: Maintaining Self-Service channels is cheaper than managing live support channels.
Increase in customer satisfaction: By providing Self-Service, customers can select how they interact with the company, and so building an experience that they prefer.
Customer service is considered as one piece of the overall customer service and support strategy. And it should be aligned with the Self-Service portal vision and customer success metrics.
We clarified three steps to build an effective digital customer service strategy:
Understand current customer journeys. 
Implement necessary technology. What kind of technologies will help business leaders accomplish their customer experience goals? 
Measure success. Equally critical to implementing a strategy is measuring its effectiveness. 
There might not be a one-size-fits-all customer service strategy, difference starts with the point where you are. But everyone can with efficient support move from low maturity to higher maturity portals.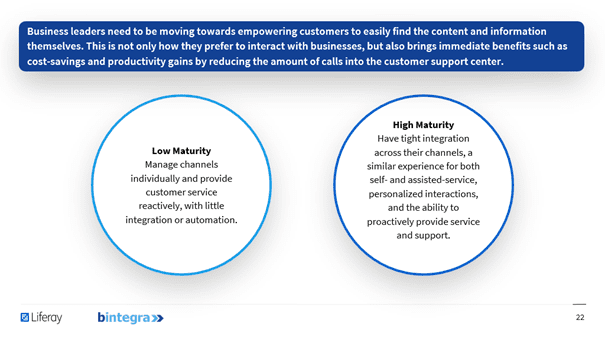 Self-Service should be provided when there is a need and a desire. When there is one of these you should focus on Self-Service and go for it. A well implemented customer service provides unique opportunities for revenue growth and service cost reduction while increasing the overall customer experience and user satisfaction.
Here is a list of 5 steps what means to have an effective Self-Service strategy build out:  
The 1st layer is to define your Self-Service strategy and the tactics in which you want to execute on.
Then you need to discover and enrich your customer journey. 
You need to select and prioritize your customer channels.
And integrate Self-Service technologies within existing customer-centric architecture.
And last you need to measure the Self-Service engagements so you can repeat the cycle and deliver an effective user experience that is constantly evolving and meet the needs and demands of your customers.
While still thinking about implementing Self-Service in your business, please read 6 important trends in customer digital behavior:
Speed: Customers demand to interact fast.
Personal: Your personal customers want you to know them. They want to have the trust and the value associated with speaking to someone.
Convenient: Customers want you to know where they are and how you can provide a suitable channel to interact with them.
Efficient: Your customers should not wait or skip the processes that need to happen. You also do not want to add any unnecessary administrative steps.
Effortless: Customers want applications that are simple and easy to use.
Automatic guidance: To provide service in line with what your customers think. Customers should be guided to come to their goal simple, quick, and efficient.
Digital Self-Service responds to all these trends.
And last, but not least –  everything written in this blog  may convince customer experience leaders of the need for Self-Service capabilities, but IT teams may still be hesitating to devote their time and resources to managing a Self-Service web portal. Because alignment with IT is critical to the success of a Self-Service strategy, we suggest to openly communicate among your team:
Triggering the need for change.
Communicating benefits of self-service for IT teams.
Getting buy-in for a unified customer experience platform.


AND SINCE THEN – WELCOME TO JOIN THE LEADERS OF THE FUTURE!
If you would like to know more about Digital Self-Service please do not hesitate to contact us: info@bintegra.com . Thank you for your inquiry!