Digital self-service or self-service is a term for customer service approach that empowers users to independently resolve issues or answer questions through digital channels. While self-service can be delivered through many different channels such as chatbots, FAQs, or video tutorials, these digital solutions generally require different systems which can quickly become disjointed and difficult to manage.
A self-service customer portal is a single, unified location that provides access to all digital self-service features.
Self-service can be leveraged for employees and partners, but many businesses use self-service to provide value to their customers through a self-service customer portal.
Self-service is being adopted widely across industries, countries, and business units. Predicted by Gartner "self-service is becoming the norm as customers increasingly expect an effortless experience at scale." By 2022, 85% of customer service interactions will start with self-service.
Self-service is quickly becoming top digital solution in improving customer experience. Strategic customer experience leaders also recognize that customer-facing solutions, like web portals, must include self-service elements in order to be a truly effective and valuable tool. The first step to excellent digital customer experience is self-service.
Well-implemented self-service can provide long-term benefits such as:
Increase in traffic: Examples of 4x more traffic on the company's page brings 5x more customer sign-ups.
Increase in customer satisfaction: More then 80% customers want to handle issues themselves first. The response time is faster.
Decrease in number of support calls: By a unified self-service portal support calls fall dawn for 30 % Greater volume of support handled.
Decrease in total support calls: The cost of do-it-yourself is measured under 1 EURO, while life-service and B2B go up to 10 EURO and more.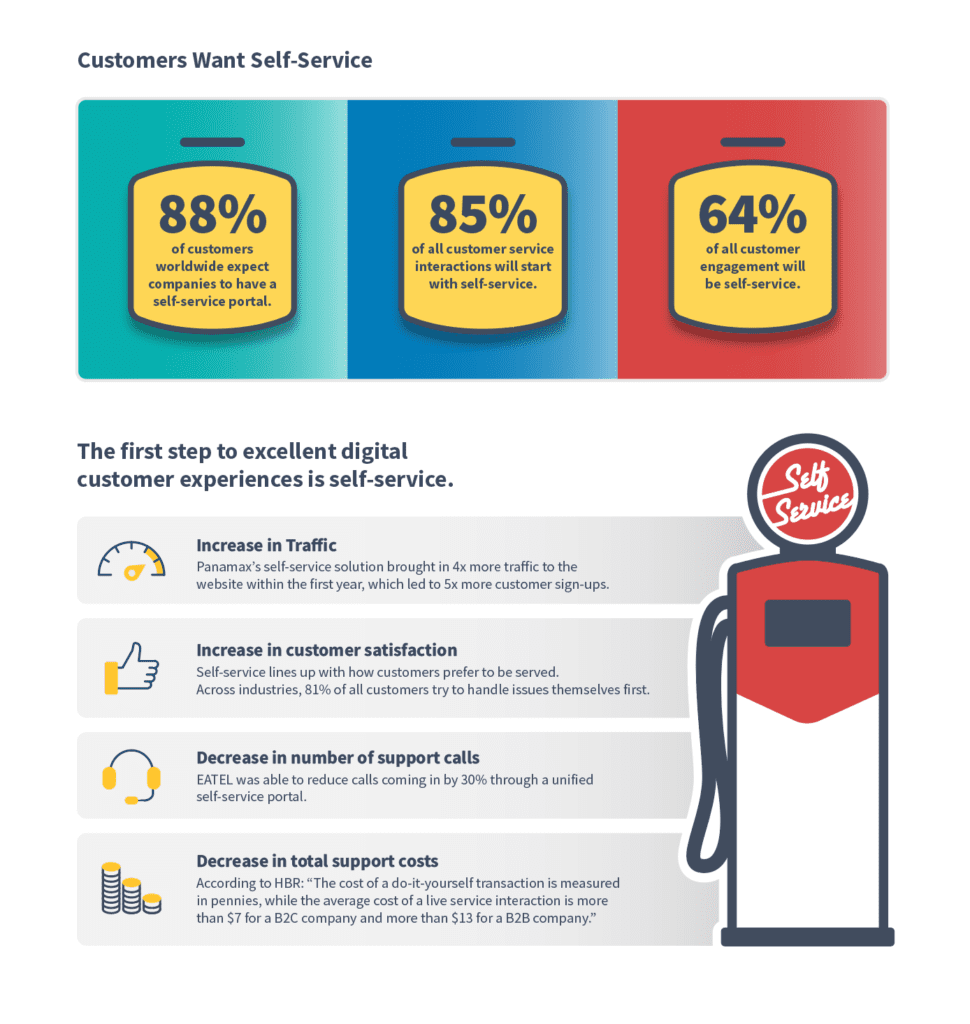 Getting self-service right definitely helps improve financial results. Key areas such as:
agent utilization rate
average profit margin per customer and
cost per customer contact call … all improve with top self-service programs.
Excellent self-service is not simple, like adding chatbots or including an FAQ on your site, rather, it will be most effective when implemented as part of a strategy that fits into your overall customer service initiative through a self-service customer portal.
To succeed in Self-Service, companies must have a clear understanding of customer expectations and the complexity of solving client issues. They must be coupled with a top-notch user experience where customers can easily navigate the Self-Service portal on their own. With effective Digital Self-Service, businesses can meet their customers' needs faster while reducing the cost-to-serve.
4 Ways You Can Use Self-Service Customer Portals
The implementation of self-service should be based on organizational goals and customer needs. Businesses must first determine the purpose of self-service and how it will impact the overall customer experience.
Here are four key strategies customer experience teams can utilize for their self-service customer portals:
1. Turn a Cost-Center into a Profit Center
Customer service can be turned into a profit center by leveraging self-service to establish a competitive advantage and to generate new revenue streams.
2. Create a Single Support Hub
Self-service portals can be used to streamline the customer experience by centralizing knowledge in one location for all customer issues, account information, and tasks. By creating a self-service customer portal with FAQs, knowledge bases, chatbots, and virtual assistants, customers can go to a single digital destination to find the information they need.
3. Build Communities
Self-service can be the development of a digital location where customers can help one another. In this strategy, companies create communities where customers can voluntarily answer one another's questions and share knowledge. This leads to increased engagement and loyalty across channels. Besides, businesses can consider how they provide self-service on external channels like social media in order to engage customers where they are. Drive
4. Proactive Responses
With data, businesses can use self-service as an active strategy. Self-service can be used to proactively respond to and address customer issues. Businesses can do this either through predictive customer analytics, gathering insights into customer behavior and modeling potential customer behavior, or using data gathered from IoT technologies in order to have real-time situational and contextual awareness.
Most companies already have the knowledge and services in place to support self-service. What they need is a focused strategy that brings everything together in a customer-friendly way. By taking what already exists and integrating it into a unified customer portal, customers can launch an effective self-service experience faster while setting themselves for future growth.
If you would like to know more about Digital Self-Service please do not hesitate to contact us: info@bintegra.com . Thank you for your inquiry!