In last few years, a lot of trends are happening in Digital Self-Service area. Millennium generations are growing up and becoming service consumers. They are used to digital channels and tools. Also Coronavirus pandemic brought changes to us since people spent more time inside the homes, working from home and spent more time in front of computers and smart phones. Situation is reminding us on the well known song of Freddy Mercury: I want it ALL and I want it NOW!
Customers are becoming more self-sufficient and empowered than ever with immediate access to information wherever they are. Organizations are struggling to meet the increasing demands of their customers. Consistent multichannel experiences become very important. This is why strategic customer experience leaders are turning to Self-Service customer portals. These customer portals are not only able to fulfill the modern customer's need for autonomy, but also decrease the amount of effort support teams are required to invest in each customer interaction.
As the number of technologies used and digital channels increases, customer service technology stacks will start to contain disparate, overlapping systems leading to disjointed customer experiences. To combat this risk, digital experience platforms (DXP) can facilitate the integration of existing services into a one, unified user-friendly platform.  Within a DXP, systems and applications can be easily connected to provide consistent multichannel experiences.
Additionally, DXPs are built to be flexible and extensible, so the platform can not only unite new systems and incorporate emerging technologies as they arise but can also be extended for other future needs. A robust DXP can build multiple customer-facing solutions, like customer portals, communication hubs, status update websites or similar, all on the same platform. In addition, by tracking Self-Service activities, companies can forecast traffic across all agent assisted channels. Things like chat, phone, email or different touch-points they may have should be compared to Self-Service activities.
Research shows that a good self service platform increases agent utilization by 4,3% year over year. To put this into context, a company that has 500 seats in a contact center with an annual labor costs of 50,000€ would mean this company could save 1,5 million € each year. This is why self service adoption is on the rise.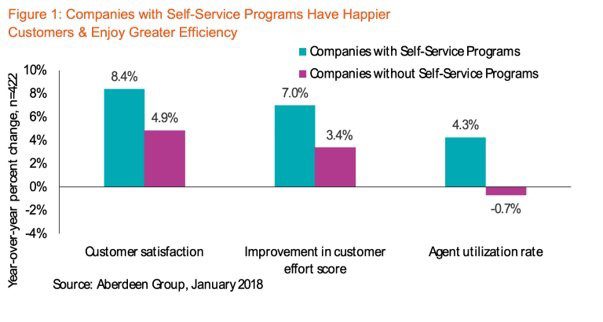 To succeed in Self-Service, companies must have a clear understanding of Customer Expectations first and second the complexity of solving client issues. They must be coupled with a top-notch user experience where customers can easily navigate the Self-Service portal on their own.
You might wonder how a new or upgraded Self-Service can benefit someone that already has a solution in place? The difference in older and newer solutions is the capabilities of the systems.
If you are:
Serving customers with phone or email 5+ Years (80% of mid-size market)
No deployed self-service experience for customers (40% of mid-size market)
Unable to show positive relationship with CX (90% of mid-size market)
Solid channels and customer interactions (47% of mid-sized market)
… then you are only able to react to incoming requests from customers.
But with a high maturity solution you have the opportunity to actively reach out to customers to help out with their issues. This gives better user experience for greater engagement.
For those companies that do not yet offer self-service portals to their customers, there are a number of signs they should look to, that will perhaps suggest the time has come for them to do just that.
Are Your Customer Service Costs Too High?
One sign that your business might need a self-service customer portal is that customer service costs are becoming too high. When compared to live service interactions, the costs associated with self-service are significantly lower.
This makes it possible for companies to support more self-service interactions, ultimately leading to larger volumes of customers being helped at a significantly lower cost. In the long run, the costs saved will make the initial investment in the portal worthwhile.
Have You Noticed Issues with Productivity?
Some companies may find that the productivity of their employees is not what it could be. This may not be through any fault of their own, but simply because they are spending so much of their time having to answer the same questions over and over again.
Making use of a self-service customer portal would mean that employees do not have to take part in these repetitive tasks, thus freeing them up to deal with more complicated queries and assisting customers to develop improved experiences.
Are Your Sales Flagging?
If sales are flagging, a self-service customer portal can help to turn around the fortunes of a company because of the superior customer experience it helps to provide.
Customers who have better experiences with a business are more likely to not only return to make more purchases or use that service again, but also to recommend that business to their friends, families, colleagues and acquaintances.
Automated portals help to provide more efficient services to customers, leaving them with a more positive impression of the business. This will not only have a positive impact on the reputation of your company, but also on your sales figures.
Do You Lack Insights Into Your Customer Behaviour?
Many businesses are suffering today because of a lack of insight into the behaviour of their customers, as well as a general lack of understanding of what it is their customers actually want and need.
Self-service customer portals are a great way to redress this imbalance, not only by offering a better experience to customers but also providing businesses with greater ability to track their behaviour and acquire additional insights. For example, your business can gain significant insights from seeing which articles / questions are being viewed more or what questions are frequently being asked.
These insights can help companies to determine the questions and problems customers may have, allowing you to continue to provide a superior customer experience and continually improve the services or products you offer.
Are You Struggling to Get Recommendations From Satisfied Customers?
If your business seems unable to gain much traction via word of mouth and be recommended by satisfied customers, self-service customer portals could also help to address this particular shortfall.
Today a significant number of customers, particularly those in younger age groups, have a preference for self-service. The younger generation is more likely to make use of FAQ pages to try and find solutions to their problems before they get in touch with customer service. As a result, self-service portals will be of particular appeal to this demographic.
Customers who are particularly impressed are much more likely to discuss a company as well as to recommend it to the people they know.
Have You Had Issues with Content Delivery?
Some businesses struggle with delivering content, including visuals and videos, to their customers. The key benefit of self-service customer portals is having a unified channel to deliver content, ensuring customers know exactly where to go when looking for content.
If customers are able to easily navigate and find content, it will encourage greater levels of interaction with your business and help them to gain a greater understanding of the nature of the products and services that your company provides.
Do You Have Poor Website Traffic?
If the traffic numbers to your company website are poor, self-service customer portals can be a good way to increase them without having to pay for adverts on Facebook or Google.
When customers are able to automatically access a method that allows them to gain knowledge on their own, this increases the likelihood that they will go to your company website and actually see your published content, which is a great way for your business to build its credibility as an authority within your industry.
These are just some of the signs that it might be time for a business to make use of the Bintegra products and Liferay DXP Self-Service Customer Portal. The good news for businesses is that it is a simple process that can nonetheless make a vital difference to any company that wants to make customer support one of its biggest priorities.
If you would like to know more about Digital Self-Service please do not hesitate to contact us: info@bintegra.com . Thank you for your inquiry!